Does your Biofield Need Tuning?
Biofield Tuning is a relatively new method to promote deep healing discovered by Eileen Mckusick (biofieldtuning.com). She found that there is an electromagnetic field that extends about 5 feet out from our bodies, in either direction that stores our history. Due to experiences of trauma, that can occur as early as in the womb, our energetic patterns are disrupted.  As we strike a tuning fork and start combing the field in towards the body, to gradually arrive at the individual's current age, we provide acoustical feedback to the body to restore it to coherence. She calls it recalibrating the body to wholeness, just as we tune instruments that get out of tune. We listen for places where the tone goes flat or sharp or might be full of static, then we keep sounding the fork until the tone is clear and pure.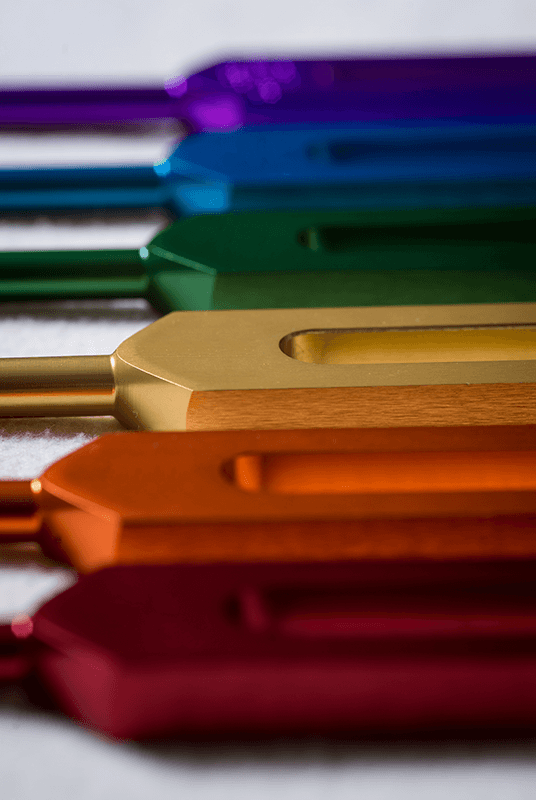 Your content goes here. Edit or remove this text inline or in the module Content settings. You can also style every aspect of this content in the module Design settings and even apply custom CSS to this text in the module Advanced settings.
My clients are astounded at the forgotten stories that they realize they are still carrying energetically. In the days after a session, they report a sense of lightness, more joy, the ability to start speaking their truth, or a feeling of oneness and a deep spiritual connection. For deeper, more theoretical exploration, go to Eileen McKusick's YouTube channel, where a variety of videos provide more explanation or find her book, Tuning the Human Biofield: Healing with Vibrational Sound Therapy. Besides bringing coherence through clearing the Biofield around the body, there are many protocols that utilize weighted forks directly on the body, for instance:
Brain/Vagus Nerve Integration

Liver Cleanse

Clearing the Throat Chakra

Overcoming Habits

Support for the Digestive System

Adrenal Rhythm Reset

Respiratory System/Grief

Head, Neck & Shoulders
Sessions last around 75 minutes.
CONTACT
We look forward to connecting and answering any questions you may have.